New approaches to eliciting protective immunity through T cell repertoire manipulation: the concept of thymic vaccination
Medical Immunology
2004
3:2
Received: 03 December 2004
Accepted: 08 December 2004
Published: 08 December 2004
Abstract
Conventional vaccines afford protection against infectious diseases by expanding existing pathogen-specific peripheral lymphocytes, both CD8 cytotoxic effector (CTL) and CD4 helper T cells. The latter induce B cell maturation and antibody production. As a consequence, lymphocytes within the memory pool are poised to rapidly proliferate at the time of a subsequent infection. The "thymic vaccination" concept offers a novel way to alter the primary T cell repertoire through exposure of thymocytes to altered peptide ligands (APL) with reduced T cell receptor (TCR) affinity relative to cognate antigens recognized by those same TCRs. Thymocyte maturation (i.e. positive selection) is enhanced by low affinity interaction between a TCR and an MHC-bound peptide in the thymus and subsequent emigration of mature cells into the peripheral T lymphocyte pool follows. In principal, such variants of antigens derived from infectious agents could be utilized for peptide-driven maturation of thymocytes bearing pathogen-specific TCRs. To test this idea, APLs of gp33–41, a Db-restricted peptide derived from the lymphocytic choriomeningitis virus (LCMV) glycoprotein, and of VSV8, a Kb-restricted peptide from the vesicular stomatitis virus (VSV) nucleoprotein, have been designed and their influence on thymic maturation of specific TCR-bearing transgenic thymocytes examined in vivo using irradiation chimeras. Injection of APL resulted in positive selection of CD8 T cells expressing the relevant viral specificity and in the export of those virus-specific CTL to lymph nodes without inducing T cell proliferation. Thus, exogenous APL administration offers the potential of expanding repertoires in vivo in a manner useful to the organism. To efficiently peripheralize antigen-specific T cells, concomitant enhancement of mechanisms promoting thymocyte migration appears to be required. This commentary describes the rationale for thymic vaccination and addresses the potential prophylactic and therapeutic applications of this approach for treatment of infectious diseases and cancer. Thymic vaccination-induced peptide-specific T cells might generate effective immune protection against disease-causing agents, including those for which no effective natural protection exists.
Keywords
Altered Peptide Ligand
Thymocyte Development
Cognate Peptide
Irradiation Chimera
Fetal Thymic Organ Culture
Introduction
Vaccination has improved healthcare by providing the most cost effective means to prevent disease on a global basis [1, 2]. Since the first safe vaccine against smallpox infection was introduced by Sir Edward Jenner more than 200 years ago [3], a myriad of killed or live viral and bacterial vaccines as well as subunit (i.e. component) vaccines have been developed and proven to be highly effective [2]. The traditional approach to vaccine development from the early 1950's until today has been based most commonly on administration of weakened versions of disease-causing agents or certain of their components with appropriate adjuvants. In this way, successful vaccines against key viruses that cause acute infectious diseases of childhood (e.g. poliovirus, measles virus, mumps, rubella, chicken pox, etc.) have been developed. These vaccines induce peripheral T and B lymphocyte memory responses, affording protection against any future attack by disease-causing agents should it occur.
To date, the fundamental principles of vaccination have remained unchanged. The overriding concept for each vaccine has been the establishment of protective immunity largely due to antigen-specific T cell expansion, facilitating subsequent proliferation and differentiation of CD8 cytotoxic effector T cells and CD4 helper T cells capable of producing antiviral cytokines and chemokines (Fig.
1A
). CD4 T cells activate B cells to generate neutralizing antibodies, offering protection against viral attachment/translocation or bacterial toxins, etc. [
4
,
5
]. As neutralizing antibodies have been the subject of recent reviews [
6
–
9
], they will not be considered further here.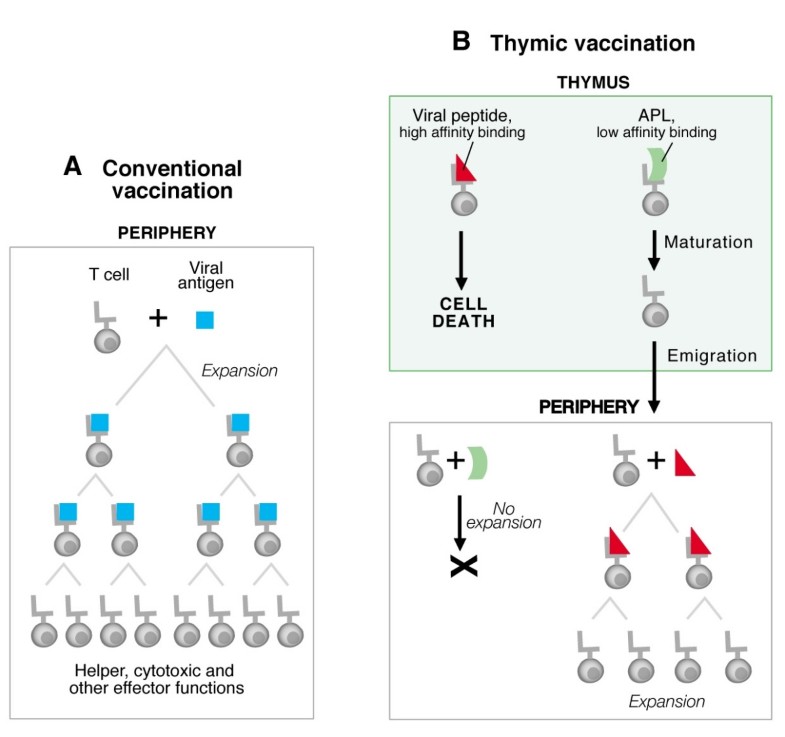 However, conventional vaccines have their pitfalls. Microorganisms including HIV and malaria, among others, may alter their antigenic proteins through rapid mutagenesis, thereby hindering cytotoxic T lymphocyte (CTL)-based immunity, exploiting holes in the T cell repertoire, and/or misdirecting both cellular and humoral responses away from key cell-binding receptors to pathogen components which cannot provide epitopes for neutralizing antibodies [10–13].
The fundamental ways in which the immune system recognizes and responds to antigen are identical, irrespective of the source of molecules; microbes, allografts, allergens, autoantigens, or tumor antigens are approached in a similar manner. It follows that immune-based therapies that focus on promoting the quantity and quality of the immune response should be beneficial in the treatment of a range of diseases, especially persistent viral infections and cancer. Finding ways to increase the pool of mature, primed T cells that are able to fend off disease is a goal for future vaccine development. In this respect, a novel strategy for vaccine design, termed "thymic vaccination" has been considered to alter the T cell antigen receptor repertoire centrally via altered peptide ligands (APL). APL derived from infectious agents or tumor antigens, with low affinity to the TCR could, in principle, mediate positive selection and export of specific T cells from the thymus [14]. As such, these APL might be candidates for manipulating the thymic repertoire in vivo, controlling the generation of naive T cells and hence, subsequent memory development within the peripheral lymphoid compartment. Through repertoire manipulation, it should be possible to sculpt the specificity and diversity of disease-fighting cells. This thymic vaccination approach aims to deliver, by parenteral administration, positively selecting APL of cognate antigens into the thymus, eliciting maturation of thymocytes with desired TCR specificities at the level of thymic repertoire development (Fig. 1B). Note how engendering T cells with anti-viral specificity requires administration of an APL, a weaker affinity ligand for a given TCR to encourage maturation and emigration from the thymus.
Expanding T cell repertoires has enormous potential in aiding the organism's fight against infections or in affording tumor immunity. This strategy is principally different from conventional "peripheral" vaccination, which leads to proliferation of pre-existing mature T cells but does not alter the repertoire through creation of T lymphocytes with new T cell specificities. Thymic vaccination, by contrast, will alter the thymic repertoire to create desired T cell specificities. Moreover, a key feature of thymic vaccination is that it should be capable of directing the immune response towards those non-mutable components of proteins derived from infectious agents and tumors and away from misguiding cues that are part of pathogen or cancer chicanery. The rationale for this approach and the advantages over traditional vaccines are described below.
Conclusions
A thymic vaccination strategy has been conceived based on the current knowledge of thymocyte differentiation and repertoire generation. This approach differs substantially from conventional vaccination since it aims to shape T cell responses through thymic repertoire manipulation, exposing developing thymocytes to positively selecting APL derived from infectious agents or tumors. Experimental data to date suggest that this strategy is possible in in vivo mouse models using irradiation chimeras reconstituted with bone marrow progenitors from TCR-transgenic animals. Increasing emigration of antigen-specific T cells from the thymus to the periphery is a challenging goal. In the future, a combined approach of exposing the subject to a positively selecting APL plus a thymic export-enhancing agent might generate practical and efficient protective repertoire manipulations. Potential applications may include design and administration of APL against cancer, infectious and autoimmune diseases.
List of abbreviations
APL:

altered peptide ligand
BM:

bone marrow
CMJ:

cortico-medullary junction
DC:

dendritic cells
DN:

double negative
DP:

double positive
GPCR:

G-protein-coupled receptors
HEV:

high endothelial venule
MMP:

matrix metalloproteinases
RTE:

recent thymic emigrants
SP:

single positive
S1P:

sphingosine 1-phosphate
TCR:

T cell receptor
TEC:

thymic epithelial cells.
Declarations
Acknowledgements
This work was supported by NIH grant AI50900 and the Molecular Immunology Foundation.
We thank our colleagues Dr. Pedro Reche for preparation of Fig. 3 and Dr. Linda Clayton for careful review of the manuscript.
Authors' Affiliations
(1)
Laboratory of Immunobiology, Department of Medical Oncology, Dana-Farber Cancer Institute, USA
(2)
Department of Medicine, Harvard Medical School, Boston, USA
Copyright
© Fridkis-Hareli and Reinherz; licensee BioMed Central Ltd. 2004
This article is published under license to BioMed Central Ltd. This is an Open Access article distributed under the terms of the Creative Commons Attribution License (http://creativecommons.org/licenses/by/2.0), which permits unrestricted use, distribution, and reproduction in any medium, provided the original work is properly cited.